On Monday, we gathered as a community to celebrate the life and legacy of Dr. Martin Luther King, Jr. alongside guest speaker Dr. Derrick Gay. Together, we continued the never-ending work of understanding our own identities within the constructs of a global society. As we engaged in a series of activities centered around our exploration of self, we worked to understand our blind spots and to better understand, and acknowledge, alternate perspectives.
Between workshops, a poem reading, and beautiful musical performances by Proctor's vocal ensemble and Dr. Gay himself, Dr. Gay shared a rare speech Dr. King gave to a Philadelphia middle school in 1967 just a few short months before his assassination. The speech, What Is Your Life's Blueprint, masterfully provides young people a roadmap for navigating the challenges facing society, while empowering them to make a difference in the world. Just as an architect builds a building using carefully laid plans, Dr. King reminds us to live our lives with the same intentionality and conviction by ensuring we possess the following:
1. "A deep belief in our own dignity, your own worth and your own somebodiness."
Given the complexities of our world today, we must take Dr. King's advice and remind ourselves that each of our lives has an impact, and we should not be ashamed of our race, our sexuality, our occupation, or our family history. As Dr. King spoke in his melodic cadence, "Do not allow anyone to make you feel that you are nobody. Always feel that you count, always feel that you have worth, and always feel that your life has ultimate significance."
2. "A determination to achieve excellence in your various fields of endeavor."
There exists no prescribed path through Proctor. As we prepare our students for life after Proctor, there is no greater advice than that which Dr. King gave fifty years ago, "You are going to be deciding as the days and years unfold what you will do in life. What your life's work will be. Once you discover it, set out to do it, and to do it well. Doors are opening to each of you, doors of opportunity, and the great challenge facing you is to be ready to enter these doors as they open." May we each embrace our fields of endeavor with the challenge and responsibility of seeking excellence, leaving a wake of impact wherever we go.
3. "A commitment to the eternal principles of beauty, love, and justice."
As cultures shift, dominant voices grab the microphone of our nation, and our national dialogue trends toward what divides, rather than what unites, the underlying principles Dr. King shared rings just as true today as it did in 1967. As we each struggle to draw the blueprints of our lives on a foundation of beauty, love, and justice, we hear Dr. King's words, "Don't allow anybody to pull you so low as to make you hate them. Don't allow anybody to allow you to lose your self-respect to the point you do not struggle for justice. However young you are, you have a responsibility to seek to make your nation a better nation in which to live; a responsibility to make life better for everybody. "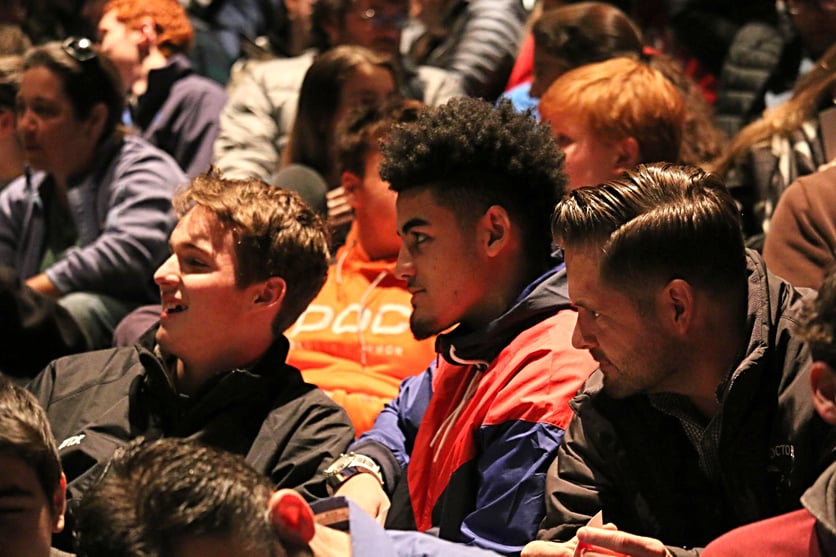 Dr. Gay left us with a powerful proverb, "If you've always been privileged, than equity may feel like injustice." We recognize we are privileged for simply being a part of an independent, boarding school community. Monday's workshops simultaneously reinforce what a strong community we have, and remind us of the work we must continue to embrace as we seek to understand stereotypes, blind spots, and inequality within the Proctor community and within the greater landscape of our society.