With Spring Family Weekend upon us, we have already reached the midpoint in the spring athletic season. For the boys' varsity lacrosse team, the first four weeks of the season have been jam-packed with games, including challenging out-of-league matchups with some of New England's strongest squads. For coaches Tucker Prudden and Phil Goodnow, as well as captains Chandler Devaney '17, Dillon Fitzpatrick '17, and Sam Fulton '17, the team's hard work has laid a foundation for future success during the second half of the season.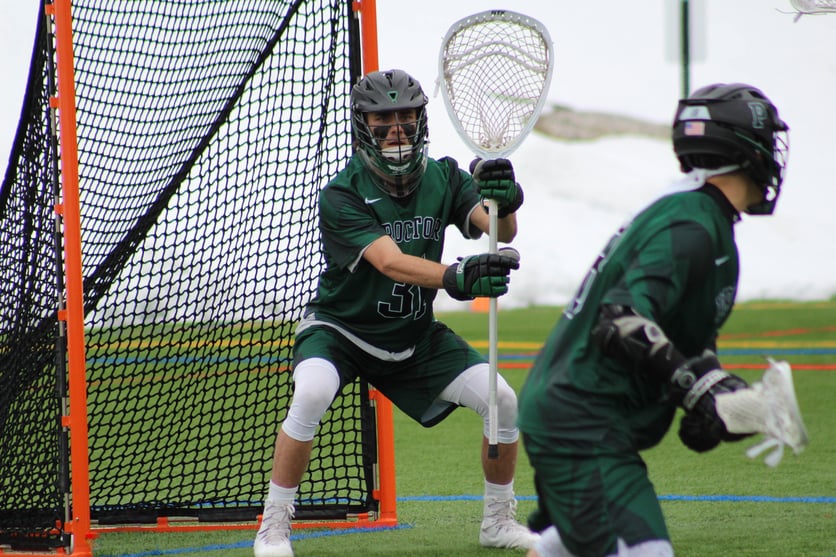 Photography by Mary Gettens '19
Coming off one of the team's most well attended and successful spring training trip in Florida, this year's squad believes they have the depth, experience, and skill to make a run at a Lakes Region Championship. Senior tri-captain long-pole Chandler Devaney acknowledges the team's greatest strength is its ability to persevere and show gritty toughness, "From here on out, most of our games are league games and we have to be both mentally and physically prepared for the competition we will face." Junior tri-captain Sam Fulton '18 adds, "Our greatest strength is absolutely our depth. We have multiple players at every position that can play so we can have fresh legs late in games."
Head Coach Tucker Prudden echoes Devaney's reflections on the team's depth, "Our strength lies in our depth and maturity. We have eleven seniors on the team, and are carrying 28 very capable players throughout the roster." The benefits of this depth are realized on a daily basis in practices. Prudden adds, "The level of play at practice has skyrocketed as a result [of our depth] and it gives us the opportunity to hit the field on game day with more energy."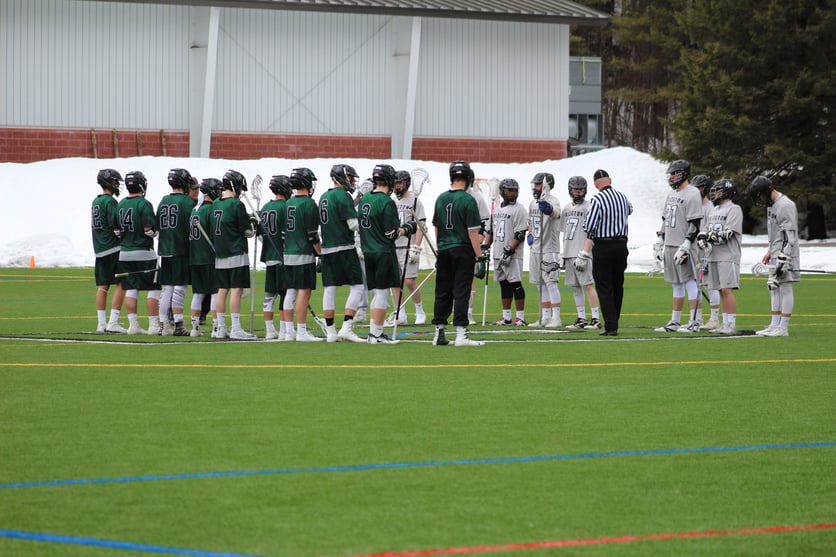 Photography by Mary Gettens '19
While depth and maturity have been calling cards of the boys' lacrosse team to date, the first half of the season has still held plenty of lessons for the veteran group. Devaney notes, "We've, unfortunately, learned our greatest vulnerability as a team is in not finishing games to the best of our ability. In a couple of our wins earlier in the season, we had a tough time finishing games, and would gradually allow a decent sized lead to slip away until we had a one-goal game on our hands." Prudden adds, "Our vulnerability lies within consistency. Our ability to play up to the level of competition is terrific, but we also have demonstrated an ability to play down to the level of competition in other games. We need to be able to consistently set the bar high with the quality of our play as we move into our Lakes Region schedule filled with talented opponents who will capitalize on our mistakes."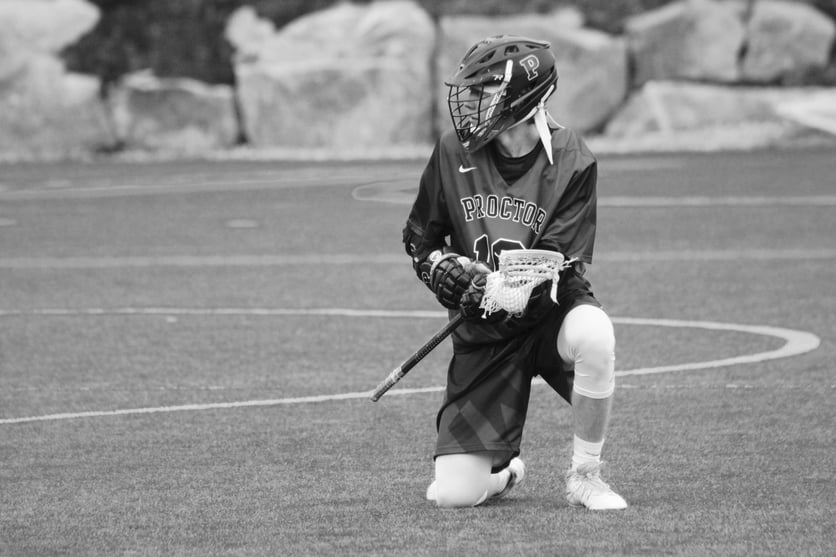 Photography by Mary Gettens '19
Saturday's 8-6 win over a very talented Pingree School squad on the road was a step in the right direction for the team. Devaney notes, "There was definitely something different about the atmosphere surrounding the team during the Pingree game. We had just gotten beat badly by Phillips Exeter, and none of us wanted to experience that feeling again. Regardless of the player and what role they play on our team, it seemed like everyone was really hyped about the game and committed to doing their part to help us win." Fulton adds, "Versus Exeter, we had no life and when we were down we just rolled over. It was exciting to come out against a very talented pingree team and be firing on all cylinders. We made plays and we rallied around each other and it paid off." Prudden agrees, "The difference between our play at Exeter and at Pingree, on a grand scale, came from our discipline and possession time. We out ground balled, out possessed, and outshot our opponent at Pingree in addition to only taking two penalties. At Exeter we found ourselves in the box frequently, struggled to pick up ground balls due to a talented face-off guy, and forced early offense opportunities that limited the balance of possession time. It was great to see the guys respond to these coaching points and put it together for 48 minutes."
After a heart-breaking overtime loss to Berwick Academy Wednesday evening, the team will look to refocus in preparation for a battle with Lakes Region foe Kimball Union Academy on Saturday afternoon. Following a ceremony honoring Proctor alumni in the armed services, Devaney and his fellow seniors will take the field for their final Spring Family Weekend game. This group of seniors appreciates the immediacy with which their final season as a Hornet will come to an end and is committed to doing the little things that will allow them to finish their careers on a high note. "There's a lot of parity within the league and we know that each day needs to be an opportunity for us to get better as a team and as individual players."
Best of luck to the boys' varsity lacrosse team during the rest of their season!