As late August arrives, a complete faculty and staff meeting in the Wilkins Meeting House officially kicks off the coming school year. Given the complexity of our respective schedules, rarely are all of the adults in the community in the same room, but this start of year meeting halts all other responsibilities on campus as we gather together to recenter ourselves on Proctor's educational mission and the individual roles we play as we seek to fulfill that mission. During this morning's meeting, we recognized faculty and staff who have surpassed the 5, 10, 15, 20, 25, and 30 year milestones working at Proctor and celebrated the retirement of two iconic members of Proctor Family who have been the ultimate stewards of community over the past four decades: Edna Peters and JoAnn Hicks.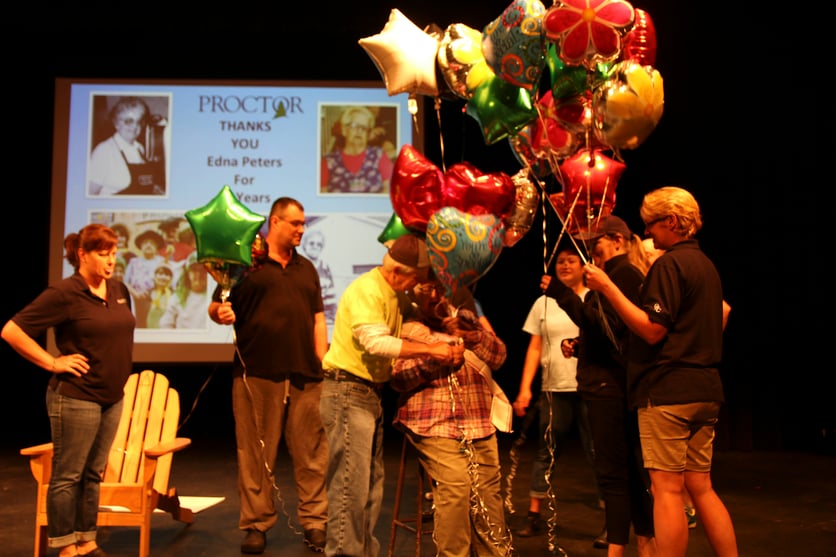 Members of the Dinning Services Team shower Edna with hugs and the balloon bouquet she has always wanted!
Since her arrival on Proctor's Dining Services team in 1979, Edna Peters has touched the lives of thousands of Proctor students through her unique ability to simultaneously make students feel loved while holding them accountable (with spatula in hand of course). A stalwart on the sidelines of athletic contests, with a special affinity for cheering on Proctor's basketball teams, her role at Proctor transcended her role in the dining hall. Edna, like so many others in the Proctor community, recognized her job did not start or stop when she arrived in the Cannon Dining Hall early each morning to prepare breakfast. Rather she understood she possessed the ability to impact young people's lives in ways far beyond her culinary skills and she made sure she optimized her impact on those around her each and every day. The beauty of Edna's mindset is that we are certain she will still make appearances at games next year, and that she will always provide a shoulder to lean on when we need guidance and a kick in the rear when we need motivation.
Her longtime partner in the kitchen, Art Makechnie P'90, '90, '92, '00, '07 shared the following reflecting on Edna's impact on Proctor, "It is truly a remarkable gift Edna has used to benefit the Proctor community over four decades. We have seen her in the dining room chatting with various people and putting them at ease. We have all seen her administering to the needs of students, as well as faculty, both at the waffle station and the cookie bar, but I've always been convinced the nurture and sustenance she provided was unlike any sustenance the waffle or cookie could provide; it is a truly remarkable love for other people that I admire greatly in you, Edna"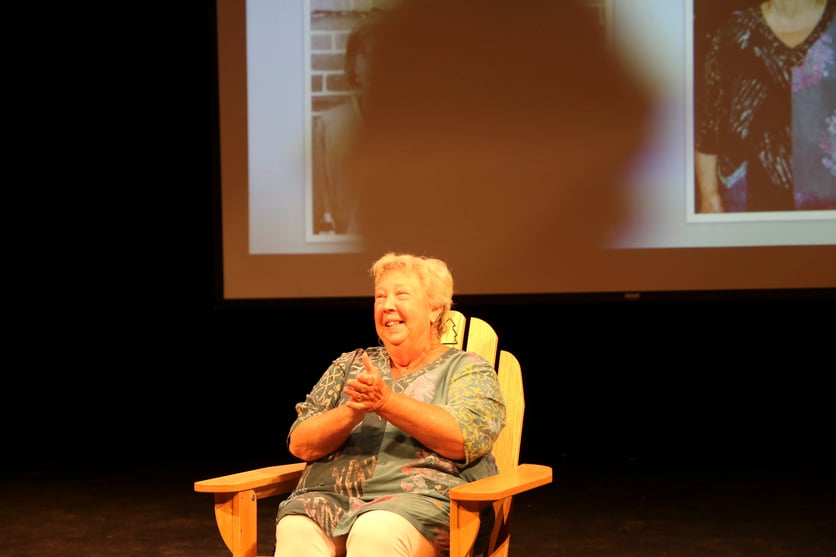 JoAnn Hicks receives a standing ovation during Monday's all faculty and staff meeting.
Over the past twenty-five years, JoAnn Hicks has worked in Proctor's Health Center, on the Housekeeping team, and most recently has served as the receptionist in Maxwell Savage Hall. She has been the voice of Proctor for visitors, parents calling permission for weekend travel, and the proof-reader of hundreds of thousands of NTAs from teachers to parents and advisors. The care, dedication, and attention to detail with which she has approached her various roles at Proctor is a testament to her deep love for Proctor and all those who make up our extended family. We wish JoAnn the best in her retirement!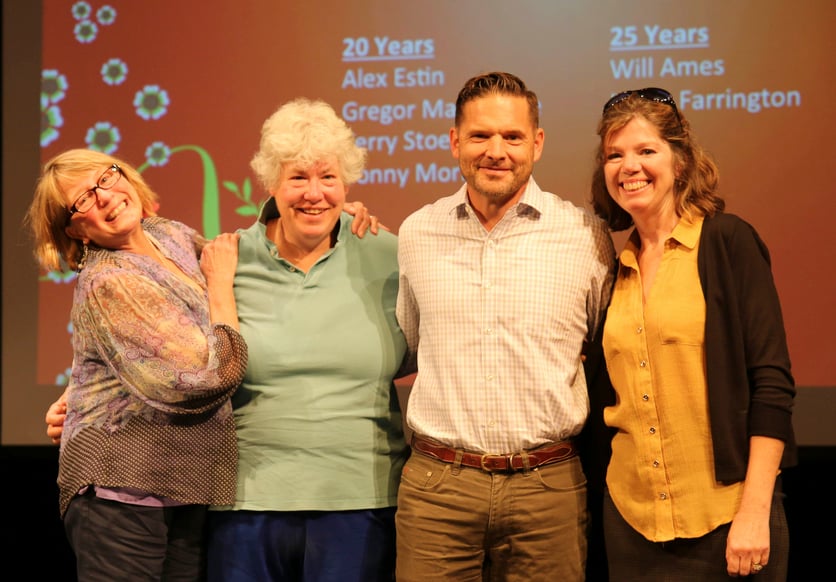 Still relatively 'new' employees by Proctor's standards, twenty years of service from Terry Stoecker, Alex Estin '83, Gregor Makechine '90 P'17, '19, and Bonny Morris P'06, '17 is something to celebrate!
Today's celebration of Edna and JoAnn was preceded by a recognition of employees who have surpassed milestones in their respective careers at Proctor. The longevity of both faculty and staff at Proctor is truly remarkable (we have more than a dozen employees who have been here for over 30 years), and as Michele Koenig (who is celebrating her 30th year at Proctor) so eloquently stated to the community, "The recognition this morning, to me, is pointed a bit in the wrong direction. Instead of recognizing us as individuals, we should be celebrating the amazing community here at Proctor that has made so many of us want to stay here for so long."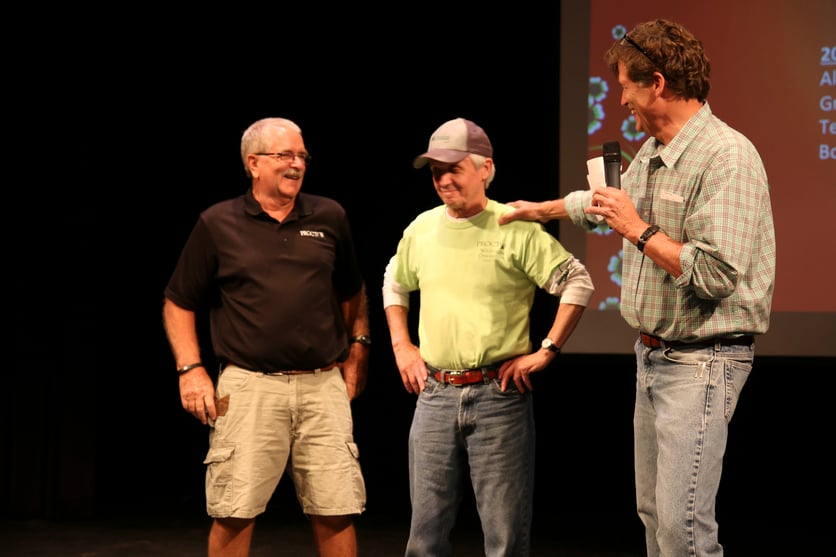 Will Ames and Kevin Farrington are honored for their 25 years of service to Proctor.
The beauty of Proctor is that it's magic as a community transcends an individual personality. No one will replace Edna's presence in the dining hall or replicate JoAnn's voice in Maxwell Savage. We will absolutely miss Susan Currier, Brenda Godwin, Laurie Zimmerman, and Phil Goodnow as they also enter retirement, but if each of us takes our responsibility of being stewards of community seriously, Proctor will remain unchanged as we navigate the upcoming school year without their voices of wisdom in our daily lives. Thank you to each of our retiring faculty and staff for showing us how to truly steward community. We enthusiastically accept the challenge of keeping Proctor's magic alive!