Proximate learning does not occur without risk, but it is in those moments where students are living their education alongside the issues they are studying that world views are transformed.
Next Friday at noon, more than a third of Proctor's student body will submit applications to study abroad on one of our five term-long off-campus programs next year. Many will apply to study off-campus for the first time, while others will look to cap their Proctor experience with a second or third trimester abroad. So why is it that more than 80% of our students choose to study off-campus?
We believe deeply in the value of learning as a process, not a specific outcome. Proctor's model of academic rigor mixed with academic support results directly in a school culture that frames challenges in a way that encourages perseverance and provides opportunity for healthy struggle. We believe there is no better place to authentically encounter this type of learning than through a study abroad experience where independence, self-advocacy, and self-awareness become primary tools for each student. Fully funded by boarding tuition and operated entirely by Proctor faculty members, our five term-long off-campus programs have shaped nearly every student's Proctor experience over the past five decades.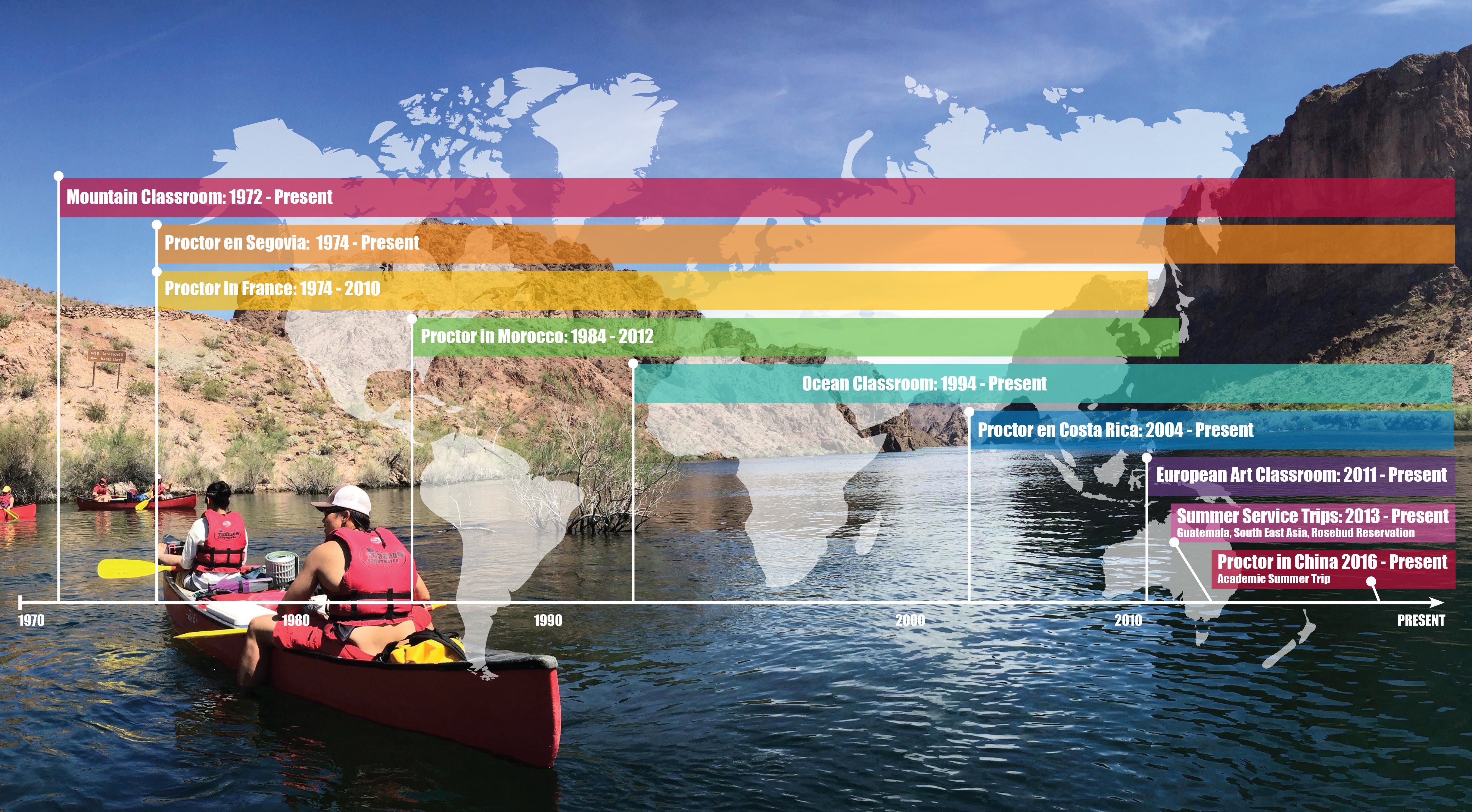 Proctor's educational philosophy rooted in hands-on, experiential learning opportunities has a history that dates back more than seventy-five years. In large part, this is why our off-campus programs are always full, providing 90 students a truly life changing experience each year. This culture of studying off-campus is a byproduct of on-campus support systems - relationships with faculty advisors, learning specialists, dorm parents, teachers, coaches, and parents - building the confidence in each of our students to step outside their comfort zone and into the challenges that await them in an off-campus program. As students work to finish their applications for next year's programs, browse our five term-long programs below to see what all the hype is about!
Mountain Classroom:
Since 1972, Mountain Classroom has stood as a cornerstone of Proctor's commitment to experiential learning. During the winter and spring terms, ten students and two experienced instructors embark on a ten week exploration of the American West, gaining first-hand experience from local activists and guides. Combining outdoor education and academic inquiry, Mountain Classroom students examine the complex and intricate connections between nature and culture. This winter's Mountain Classroom program is currently exploring the Okefenokee Wildlife Refuge before making their way west for the remainder of the term.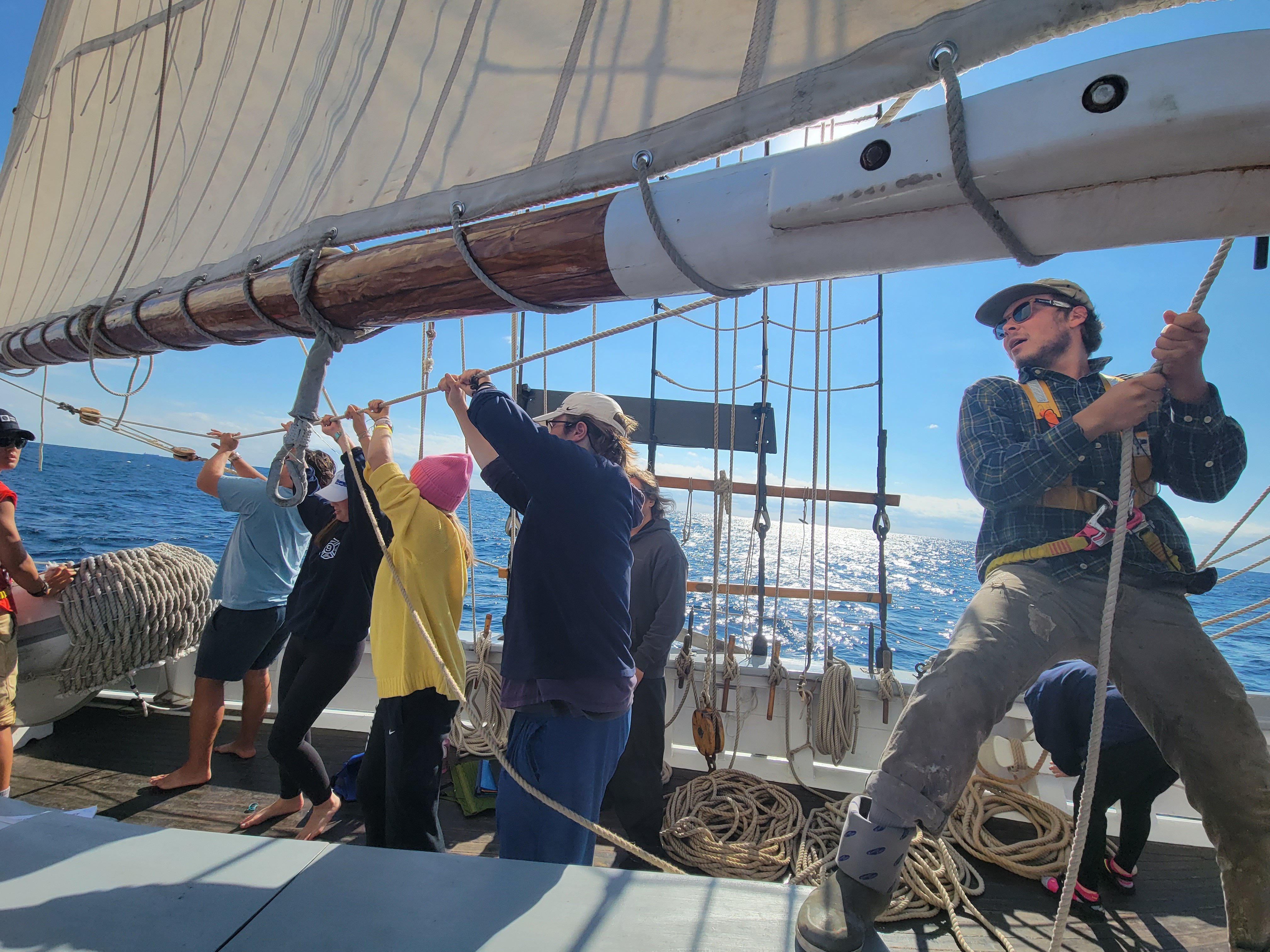 Ocean Classroom:
Since 1994, Proctor has offered more than 450 students the opportunity to board a traditional schooner and voyage along the eastern seaboard of the United States and into Caribbean waters. Students are not just passengers studying marine science, maritime literature, history and navigation during their term on Ocean Classroom, but are active crew members as well.
From the first moment students step foot on the vessel, they are divided into "watches", the core working group on any ocean-going vessel, answering directly to their professional watch officers. After nine weeks studying and working aboard schooner Harvey Gamage (owned and operated by our partner Sailing Ships Maine) students are transformed learners and experienced sailors. Offered during both the fall and winter trimesters, Ocean Classroom has the potential to be one of the most powerful experiences that a Proctor student can have. Learn more about Proctor's new Winter Ocean Classroom program HERE.

European Art Classroom:
European Art Classroom is an art immersion program based in Aix-en-Provence, France. During the winter and spring terms, eight students and two Proctor faculty dedicate themselves to the study of the finest arts and culture of Europe. The group resides together in a beautiful private home where they learn about group living and hone their art skills in the spacious art studio and on excursions to local sites.
In addition to taking literature, art history, and language classes based in Aix, the group travels to three other European cities to further explore cultural and artistic themes. The program takes full advantage of Europe's finest art museums, theater, musical performances, and old-world charm. This program's vibrant combination of art, travel, and study inevitably leads to heightened aesthetic sensibilities and personal discovery.
Proctor en Segovia:
Since 1974, Proctor students have had the opportunity to live with a Spanish host family while studying Spanish language, literature and history in the ancient Roman city of Segovia, Spain for a nine-week term during fall, winter, and spring trimesters. Through complete language and cultural immersion, Proctor's teaching faculty in Segovia combine classroom instruction with weekly excursions, both locally and throughout Spain's diverse regions, in order to craft a uniquely challenging, and equally rewarding experience for ten students each term.

Proctor in Monteverde:
Proctor en Monteverde is a program primarily for sophomores who are academically and socially mature and ready for a cultural immersion adventure in Central America. While living with host families organized through Proctor en Monteverde Program Director Kathia Corrales, students attend classes at the Monteverde Institute. Students continue their sophomore level science, humanities, math, and Spanish classes alongside native Costa Rican students, while engaging in arts and afternoon activities in the local community. Each student earns a full year's worth of Spanish credit during the ten weeks of this program. Monteverde, Costa Rica is one of the most ecologically diverse areas in the world providing unparalleled learning opportunities ranging from planting trees for reforestation to constructing farm related engineering projects such as irrigation systems or bio-digesters for methane production.