Here at Proctor, our decisions are guided by a robust Environmental Mission Statement. Written by Proctor Environmental Action (PEA) students and adopted with the full support of the Proctor faculty in 2008, the Environmental Mission Statement has been instrumental in guiding us in significantly reducing our use of fossil fuels, dramatically increasing our generation of alternative energy, and strengthening our environmental education program. From Housekeeping to Athletics to the Science Department, every aspect of the school is touched in some way by this statement, including the food served in the Cannon Dining Hall.
At beginning of the school year, Director of Food Services, Barbara Major, organized a sustainable food forum with Dining Hall staff, Business Manager, John Ferris, and a few selected faculty members, including Environmental Programs Director, Alan McIntyre. The group discussed some of the complexities involved in the purchasing of sustainable food—What should be the school's definition of "local food"? What's better for the environment: organic tomatoes from California or conventional tomatoes from the Upper Valley? The group also discussed practical issues like sourcing difficulties, the increased costs associated with sustainable food, food labeling in the Dining Hall, and the importance of accurately tracking our local and organic offerings. The meeting culminated with an agreement that the Dining Hall would set a sustainable purchasing goal of 10% for the 2014-2015 school year.
Last week, PEA student leader Frances O'Gorman organized a follow up meeting with Barbara Major to check on the Dining Hall's progress toward meeting this goal. As it turns out, not only has the Dining Hall staff met their 2014-2015 goal, but they exceeded their sustainability goal by 6%, ending the year with 16% of their purchases coming in the form of organic and local food products. Much of the credit for this success goes to Nate Mazur, who has been in charge of Dining Hall purchasing this year. "Nate's done a terrific job with purchasing," Major commented. "It's been Nate who has done more than anyone to find local and sustainable purveyors."
Among the changes that Cannon Dining Hall guests may find are a significant number of local and sustainable poultry and meat products, locally-sourced bagels, Cabot Creamery cheese, Stonyfield Farm yogurt, King Arthur flour, New Hampshire Cider Works cider, and the ever-popular McNamara Dairy milk. When seasonally-available, the Dining Hall also serves locally-grown vegetables, especially root vegetables, as well as greens from Proctor's student-run garden. Beyond this, what many community members may not know is that every egg used in the Dining Hall is locally-sourced and cracked by hand.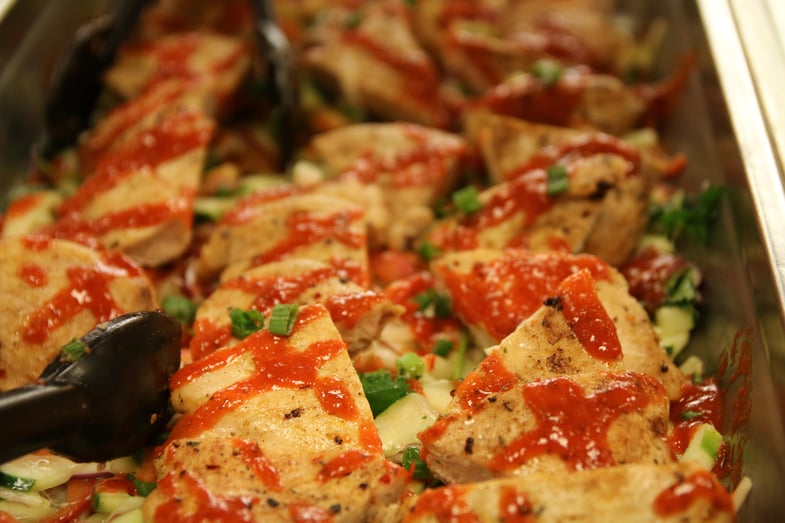 The Cannon Dining Hall staff should be commended for their work toward increasing the sustainable offerings this year, and plans are already in the works to meet again in the early fall and set sustainability goals for next year. The interest in sustainable food among the Dining Hall staff is growing, and their willingness to openly discuss issues and concerns regarding sustainable food with students and faculty demonstrates their commitment to the school's Environmental Mission and their caring for the community as a whole.
As everyone who's worked on social rights and environmental campaigns knows, institutional change is incremental. It takes dedication, focus, and collaboration. But, ultimately, it's worth it, especially when it comes to increasing access to wholesome food. As sustainable foods activist Michael Pollan wrote in his instant classic, The Omnivore's Dilemma, "How and what we eat determines to a great extent the use we make of the world—and what is to become of it. To eat with a fuller consciousness of all that is at stake might sound like a burden, but in practice few things in life can afford quite as much satisfaction."