After reviewing Proctor's largest pool of applicants we've ever seen (over 600 applications for roughly 100 spaces for the 2017-2018 school year), our Admissions Team delivered decisions to each applicant at 12:01 AM last night. For accepted students, the next month becomes a time of weighing options and finding the school that will best meet their needs and challenge them to grow into the young man or woman they desire to be.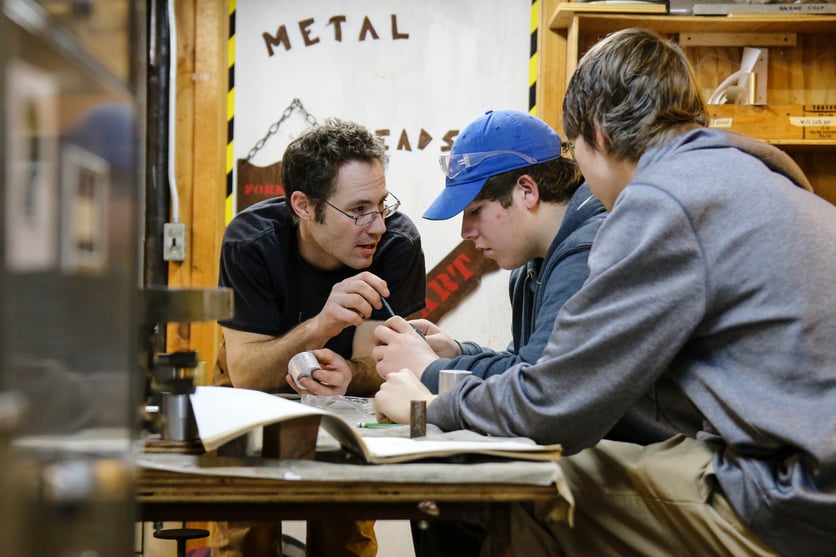 By this point in the year, most schools have communicated their value proposition to prospective families through on-campus visits, interviews, electronic communications, and on-going relationships with admissions officers. When deciding where to spend a student's high school career, especially when boarding school is one of the options, families understandably leave no stone unturned as programs are vetted, dormitories toured, tour guides peppered with questions, and every effort is made to move beyond the glossy brochures to the heart of the school community.
At Proctor, we know we have beautiful facilities (as well as some that are in need of repair) and incredibly committed teachers, advisors, dorm parents, coaches, and staff. We also recognize our peer schools possess these same attributes; we would be naive to think otherwise. Ask any alum from Holderness School, Kimball Union Academy, New Hampton School, or Brewster Academy if they developed meaningful relationships with their classmates and teachers at their school, and they will almost unanimously answer affirmatively. These factors are not differentiators for any of our schools, rather they are what makes us similar.
So what makes Proctor different? What sets us apart and why would families want to choose us? Is it our unique combination of five off-campus programs and an academic curriculum deeply rooted in experiential education? Is it the most thoroughly integrated academic support system, Learning Skills, in the country? Is it the unparalleled breadth of academic, athletic, and artistic offerings for a school our size? Is it the elite ski programs and on-campus ski area? Or is it the simple fact teachers and students are on a first name basis?
The answer to each of the above questions is of course, yes! Each of these factors makes Proctor wholly unique from any other educational option, however, we believe the true power of a Proctor education lies in the entirety of the experience, not just in the individual programs that make us a unique educational alternative. This unique blend of programs, pedagogy, commitment, and relationships makes up the Proctor Magic that has been brewing here since the early 1970s when the foundation was laid for the educational model we enjoy today.
It's a "magic" that permeates every conversation a teacher has with his or her students at extra help sessions, is present each Sunday night dorm meeting, and inspires the pre-game pep talk each Wednesday afternoon. It's a magic that is incredibly hard to articulate on a website or in a blog post like this, but is deeply felt when you engage in the hard work of building community alongside one another.
Congratulations to those who received a letter of acceptance last night! Now the hard work of finding your right fit begins. Be sure to prioritize one of our Admissions Revisit Days (March 31 or April 7) so you can feel that Proctor Magic first hand before you make your final decision!