San Juan, Puerto Rico… November 19th… The end of Ocean Classroom Voyage 2016… As these students leave Roseway and fly back to their families, there is a range of emotions. There is incredible happiness in reconnecting with their parents, siblings and friends. There is also an element of sadness in leaving the ship that has been their home for the past nine weeks. There is a feeling of accomplishment; an inner knowledge that each one of them has done something special.
And this voyage has been special on so many levels. Riding out Hurricane Matthew in the Chesapeake Bay. Making 10+ knots on a broad reach around Cape Hatterasand down to Cumberland Island, only to find that Cumberland Island was severely impacted by Hurricane Matthew and off-limits to visitors! Sailing "the long way around" to get to Havana, Cuba. The first time in 57 years that an authentic tall ship has sailed into that harbor. Making way easterly towards the Virgin Islands until it was discovered that the gammon iron was in need of repair. Thus, a hard lefthand turn to Key West and necessary repairs. Coming into San Juan Harbor past El Morro and tying up Roseway for the last time on this voyage.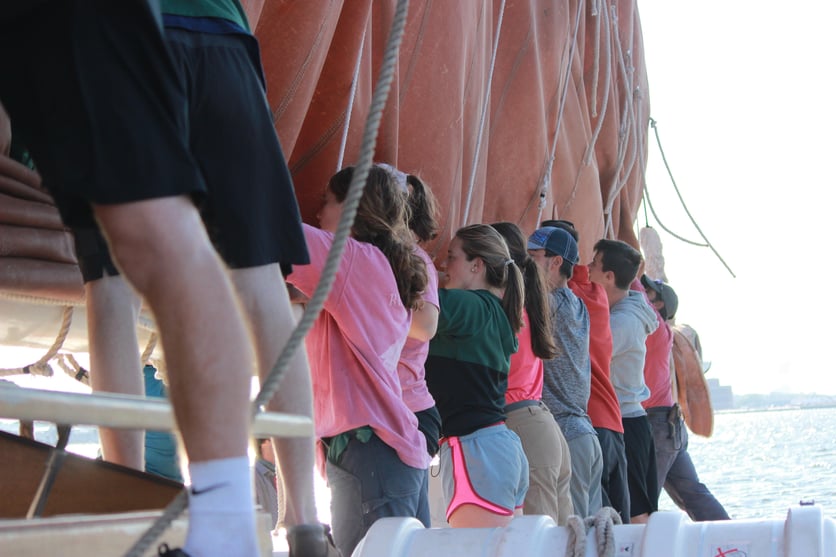 Why Ocean Classroom? Why do we do this thing… this voyaging thing? A dear Hurricane Island Outward Bound friend of mine, Col. Bob Rheault, coined (or borrowed?) the phrase: "The moral equivalent of war" when discussing the greatest values found in Outward Bound courses. His point (and believe me, he knew what he was talking about!), was that the most profound experiences are those that both test us individually and force us to be connected to each other in the same ways that soldiers feel connected in battle. In today's world, so few of us have the opportunity to experience this.
From my perspective, Ocean Classroom is one such opportunity. Each and every person aboard Roseway is critical in the safe, efficient running of the vessel. Each person plays an integral, important role in getting Roseway from one place to the next. The entire voyage is real. Everything matters! Being considered a solid shipmate aboard Roseway is a compliment of the highest order.
So, Voyage 2016 is done. These kids are no longer kids. They are schooner sailors. They are part of the crew. They are part of the Ocean Classroom family. They have had tremendous fun along the way. They have experienced remarkable things. They have all faced challenges of one sort or another. They are shipmates!
Fair winds,
David Pilla
Ocean Classroom Director
November 21, 2016