One of the perks of vacation is taking time to look back through the 283 blog posts we published as a community over the past year (wow!!!). Each of these posts, written by faculty, staff, students, parents, and alumni, represents a piece of Proctor's story. As a whole, they provide a wonderful narrative of a school deeply committed to providing an education that operates at the intersection of individualized academics and experiential opportunities within a strong, nurturing community. Today, we share the Top 10 most read blogs of 2016!

#1 The Thoreau House Fire
On Saturday June 25, we were reminded of how dangerous fire can be when flames broke out in the Thoreau House barn just before 3:00 pm and engulfed the rest of the building within minutes. The Andover Fire and Rescue squad was on scene within minutes, but the barn structure was already fully involved. With the help of fourteen other fire departments, crews were finally able to subdue the blaze by early evening. Read the full post here!

#2 Class of 2016: College Bound Athletes
Each year approximately 20% of the Proctor Academy's graduating class goes on to compete in NCAA athletics at the collegiate level. The Class of 2016 is no exception with 22 of 95 members of the class pursuing careers at the collegiate level, including a remarkable eight NCAA Division 1 athletes! Thank you to all members of the Class of 2016 for their contributions to Proctor's athletic programs over the past four years. Read the full post here!

#3 Reunion 2016 Recap
Reunion 2016 continued the positive vibes on campus with the largest alumni reunion Proctor has ever held! This year's alumni reunion celebrating all graduating years ending in 1's and 6's brought record numbers of alumni to campus to reconnect with each other, faculty and staff, and the campus they called home during their time at Proctor. Read the full post here!

#4 The Very Best of Proctor: The Johnson Sugarhouse
The Proctor community is the best. Period. We know we may possess a bit of bias, but time and time again we are reminded of the strength of this community as we attempt to navigate the messy, painful reality of life. Tuesday afternoon was another powerful reminder of why we choose to live, work, and learn within the Proctor family. Read the full post here!
#5 Introducing New Faculty/Staff for 2016-2017
Last spring, we said goodbye to three long-time faculty and staff when Marie Montivirdi, Lida Beaudoin, and Ed Barkowski retired with a collective 96 years of service to Proctor. While we will certainly miss Marie, Lida, Ed, and the other four faculty and staff who took off for new adventures, here is a brief introduction to the new faces you will see on campus this year! Read the full post here!
#6 Ocean Classroom 2016: Reflections on Havana
The image of Roseway sailing into Havana Harbor, with Castillo de San Salvador de la Punta to starboard and Castilo De Los Tres Reyes Del Morro to port was a truly powerful moment for Proctor Academy and our Ocean Classroom Program. For the first time in over 57 years, an authentic US Tall Ship sailed into Havana Harbor, and our students were able to be a part of this historic day. While there has been much press around the event, I was immediately reminded that the human-side of this story is far more powerful than the political-side, and in the end, it is the human-side that matters most for our students and their educational journey. Read the full post here!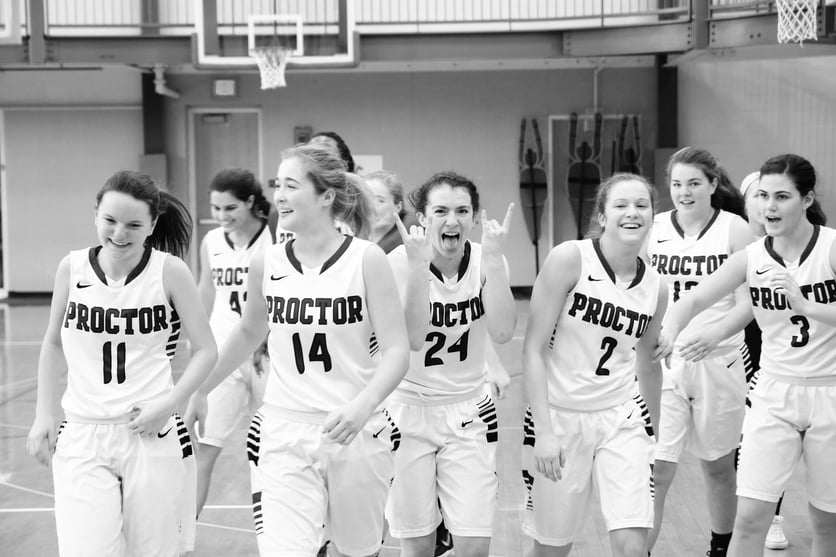 #7 Girls' Basketball NEPSAC Champions
Proctor Academy's girls' varsity basketball team traveled to Noble and Greenough School for the NEPSAC Class C Championship Sunday afternoon against #3 seed Lexington Christian Academy. Less than 24 hours after an epic upset over #1 seed Kimball Union Academy, the Hornets were eager to earn their first NEPSAC Championship since 2008. With hundreds of Proctor fans in attendance, the girls did not disappoint, and walked away with a 61-45 win and smiles on their faces! Read the full post here!
#8 Celebrating the Class of 2016
Proctor Academy observed its 168th Commencement Saturday morning as 95 members of the Class of 2016 received diplomas in front of family, friends, faculty, staff, and alumni. Each graduating class has a unique personality. This group's personality has been evolving since the fall of 2012 when freshmen members of the Class of 2016 were first packing their bags for Wilderness Orientation. Because each class is so different, every Proctor graduation takes on a personality to match its graduates, meaning this year's celebration of the senior class was certainly one to remember! Read the full post here!
#9 Remembering Artie Pratt '56: Proctor's Biggest Fan
There are few people who have been a bigger cheerleader for Proctor Academy over the past sixty years than Artie Pratt '56, former captain of the Proctor football team. Not only has Artie hosted Proctor events at his home in Naples, Florida, championing all that is Proctor to anyone who will listen, but he has also shaped student lives on campus through his steadfast commitment to Proctor Athletics, and especially the Proctor Football program. Read the full post here!
#10 Practicing Social Courage
Usually the most valuable conversations are the most difficult ones. When Cindy Pierce visited Proctor Academy's campus Tuesday, an anticipation of discomfort and curiosity preceded her separate conversations with students and faculty, which meant we knew this meant it would be time well spent! As Pierce noted at the beginning of her conversation, "In order to get to the other side of awkward, you have to wade through awkward soup." Read the full post here!
---